Is your KYC policy leading?
Is your KYC policy enforced throught the whole CDD process?  If your CDD process is disconnected from your KYC policy how can you ensure that your CDD files are compliant?
Can you rule out human error?
Do your KYC analysts have to spend hours plowing through KYC policy manuals and instructions? How can you rule out human error if your KYC policy is not applied automatically  throughout the whole CDD process?
Is your KYC policy tailored to you needs?
Is your KYC policy tailored to your information needs, risk indicators and tolerance levels? Are your specific requirements and preferences reflected in your KYC policy?
The benefits of using our Digital Policy Manager
Digitalise your KYC policy
The Digital Policy Manager is an easily configurable business rules engine with which you can digitalise your KYC policy. You can either customise a default policy or create your own policy from scratch to generate fully customised CDD files.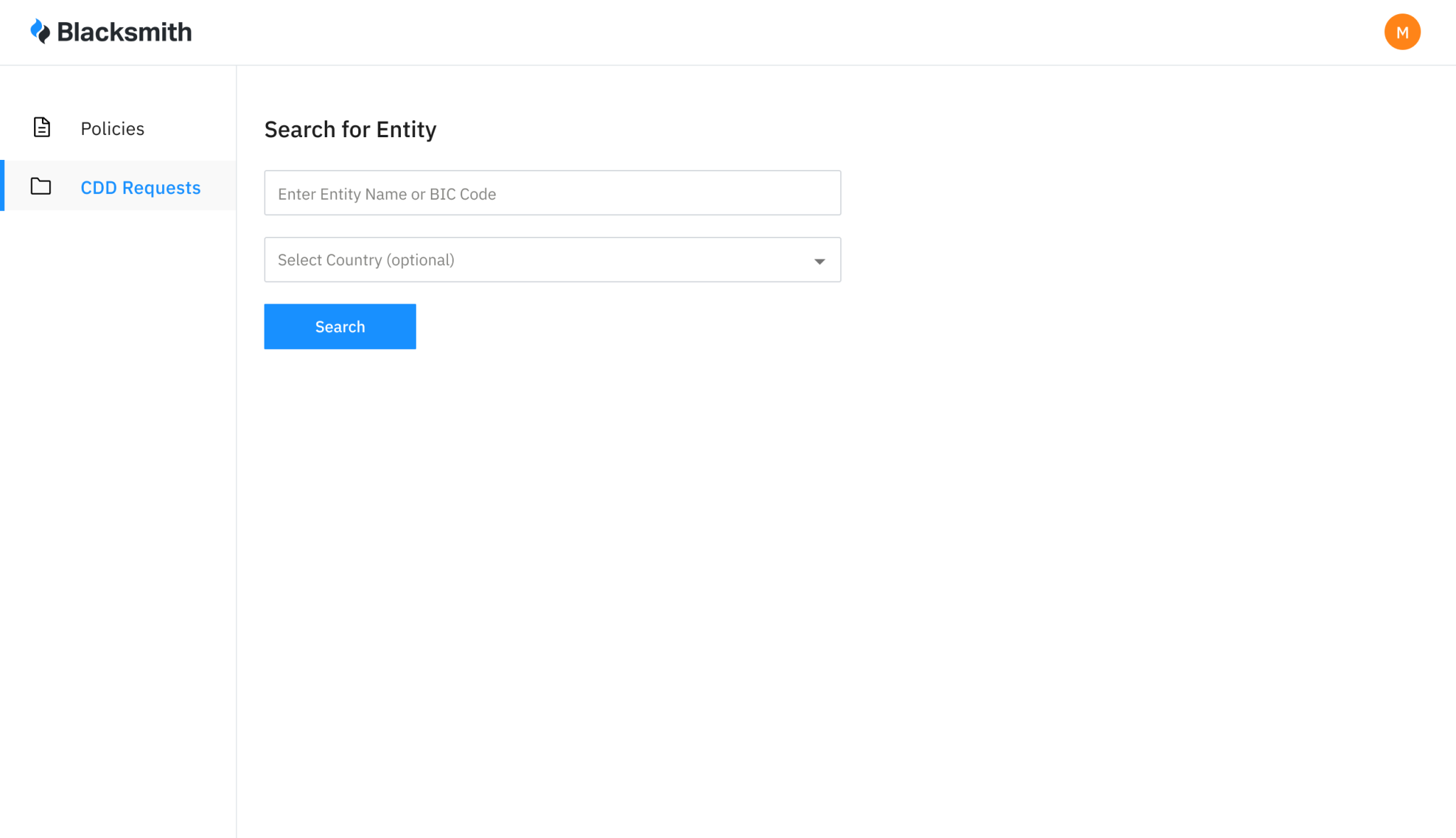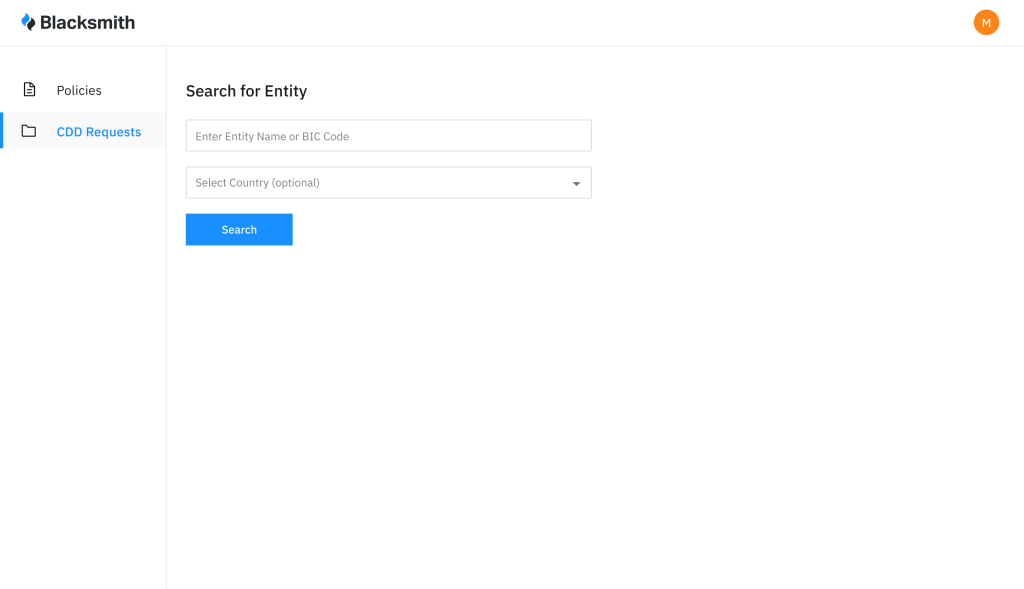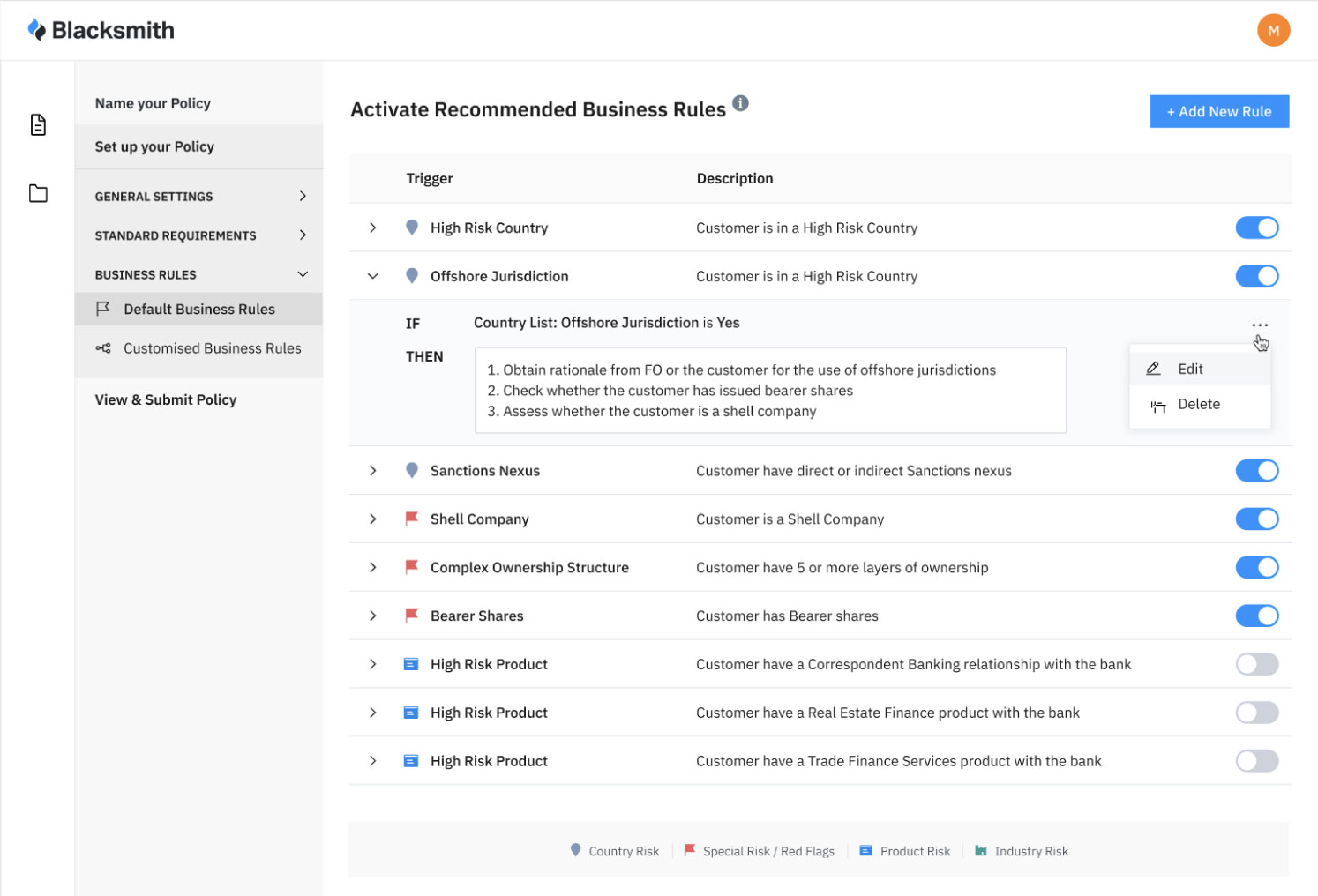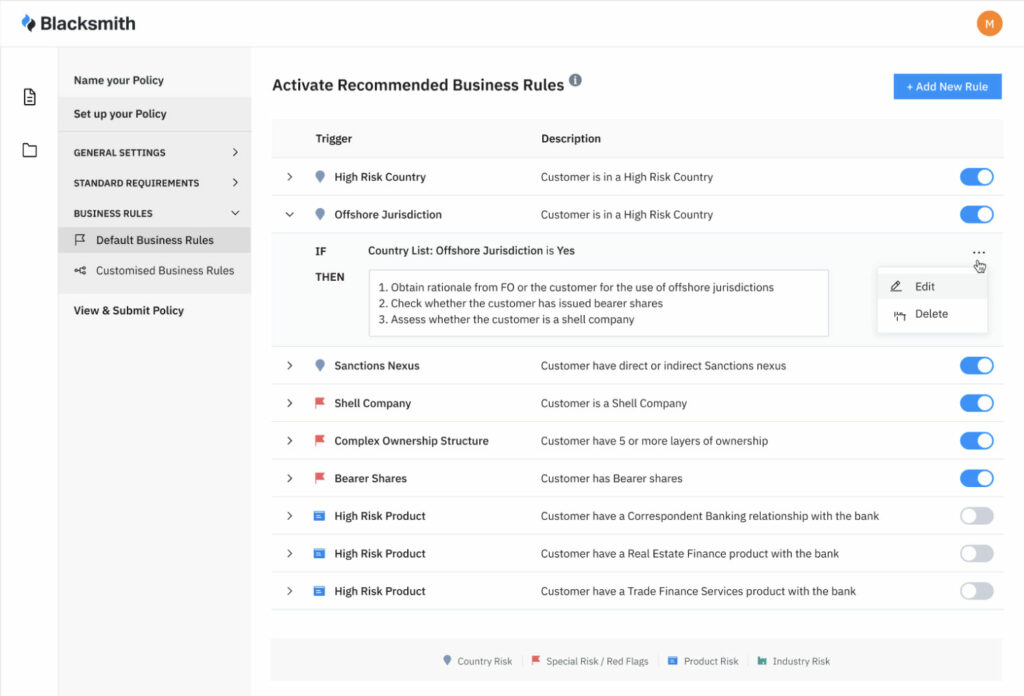 Automatically apply your KYC policy
The Digital Policy Manager will guide you through a number of steps to digitally transform your KYC policy and define the applicable settings such as: assigning priority to the data sources in the DataHub and assigning risk categories to, for example, customers, products, countries, and key controllers. In addition, you can quickly implement changes in your KYC policy with our intuitive 'no-code' user interface.
Collect KYC data in seconds
Collect KYC data from trusted primary data sources via our DataHub and automatically generate Customer Due Diligence files based on your KYC policy. Optimise your KYC process with Blacksmith
We offer a platform to digitalise and automatically apply your KYC policy in the process, collect only the relevant data from the sources you trust, and deliver standardised and actionable CDD files.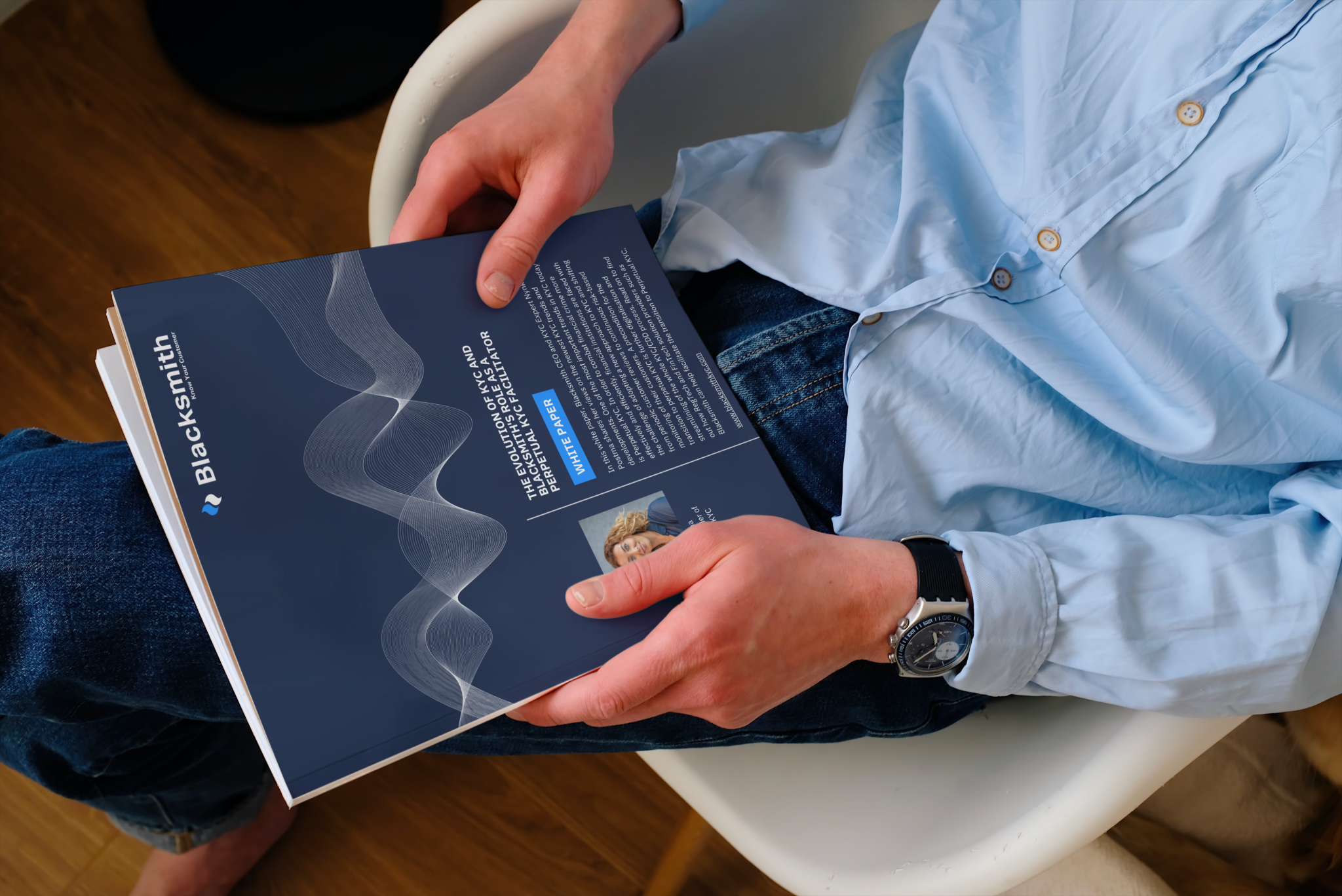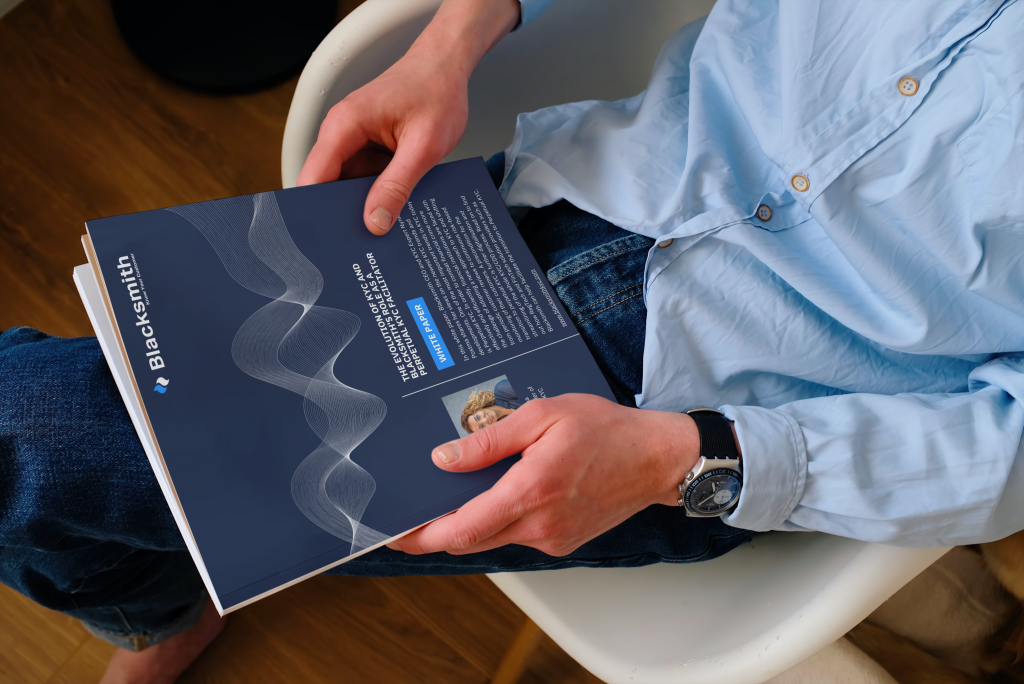 Blacksmith CEO Nynke Postma shares her views on KYC trends and developments. One of the most important trends in KYC today is perpetual KYC. Read on to find out how RegTech and FinTech solution providers such as Blacksmith can help facilitate the transition to perpetual KYC.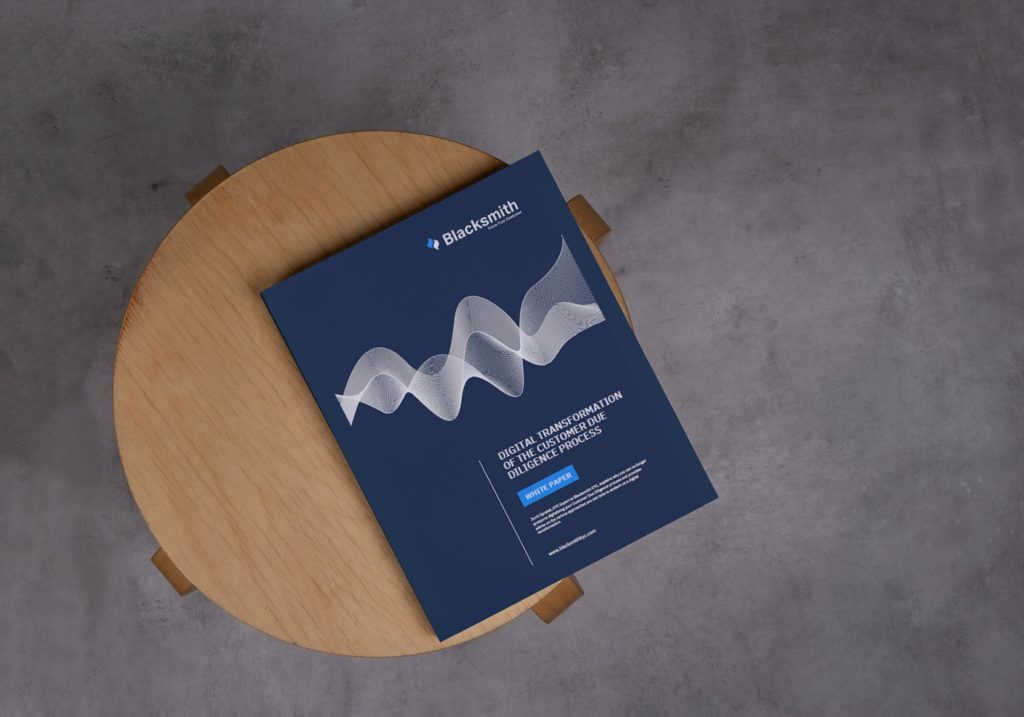 Jorrit Sprakel, KYC Expert at Blacksmith KYC, explains why you can no longer postpone digitalising your Customer Due Diligence process and provides advice on the various approaches you can take to embark on a digital transformation.
Blacksmith customers double their productivity
"Blacksmith is so easy to use!"
The interface of the Policy Manager is really easy to use. Our KYC policy settings can be changed in just a matter of minutes.
"I do my job a lot faster!"
I have tested a lot of different KYC solutions. Of all of them, Blacksmith is my favourite because the platform is so easy to use and I can do my job a lot faster.
"I am able to take action on red flags!"
Blacksmith prompts the analyst to take action on the identified red flags and implement specific enhanced due diligence measures at an early stage in the process.